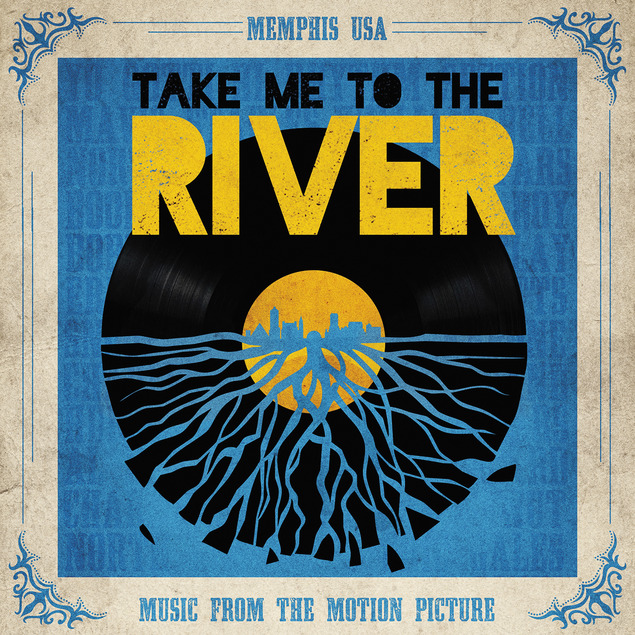 COMPANION ALBUM TO AWARD-WINNING MUSIC DOCUMENTARY TAKE ME TO THE RIVER FEATURES MEMPHIS AND MISSISSIPPI DELTA LEGENDS INCLUDING MAVIS STAPLES, BOOKER T., WILLIAM BELL AND BOBBY 'BLUE' BLAND ALONGSIDE RAP AND R&B STARS SNOOP DOGG, YO GOTTI, NORTH MISSISSIPPI ALL-STARS, FRAYSER BOY AND MORE
Lead Track "I Forgot To Be Your Lover" by William Bell with STAX Music Academy Students Featuring Snoop Dogg Premieres Today on Noisey.com
Listen to it here
Stax Records/Concord Music Group is proud to announce it will release Take Me To the River: Music From The Motion Picture on September 9th, 2014. The companion album to Martin Shore's award-winning soulful documentary TAKE ME TO THE RIVER features 13 tracks from the film's ensemble cast including William Bell, Snoop Dogg, Mavis Staples, Otis Clay, Lil P-Nut, Charlie Musselwhite, Bobby 'Blue' Bland, Yo Gotti, Bobby Rush, Academy Award-winner Frayser Boy and The North Mississippi All-Stars. The majority of the album was recorded at the legendary Royal Studios in Memphis which is one of the oldest and most prestigious recording studios in America.
The first single from the album, a modern interpretation of the classic soul gem "I Forgot to Be Your Lover" by William Bell with STAX Music Academy Students featuring Snoop Dogg, premiered today on VICE's music channel Noisey.com, listen to it here.
"The album is a journey, a celebration of collaboration," says TAKE ME TO THE RIVER director and filmmaker Martin Shore. "Memphis and Mississippi Delta music legends together with a stellar collection of modern rap and R&B stars take you on a quintessential journey into America's soul."
The TAKE ME TO THE RIVER documentary, executive produced by John Beug, Snoop Dogg, Ted Chung, and Terrence Howard, brings multiple generations of award-winning Memphis and Mississippi Delta musicians together, following them through the creative process of recording a historic new album to re-imagine the interracial, intergender and intergenerational collaboration of Memphis in its heyday.
TAKE ME TO THE RIVER premiered at the 2014 South by Southwest Film Festival (SXSW) where it won the 24 Beats Per Second Audience Award. The documentary also screened at the 2014 Bonnaroo Music and Arts Festival to critical acclaim. TAKE ME TO THE RIVER will be released in select theaters nationwide on September 12, 2014.
Pre-order the album here: http://smarturl.it/tmttrOST
Take Me To The River: Music From The Motion Picture track listing:
1. Bobby "Blue" Bland featuring Yo Gotti – "Ain't No Sunshine"
2. Mavis Staples with North Mississippi All-Stars – "Wish I Had Answered"
3. Bar Kays featuring 8Ball and MJG – "Be Like Me"
4. Bobby Rush* featuring Frayser Boy – "Push and Pull"
5. Booker T. with North Mississippi All-Stars featuring Al Kapone – "Supposed to Be"
6. Otis Clay featuring P-Nut – "Trying to Live My Life Without You"
7. Mavis Staples with North Mississippi All-Stars – "I've Been Buked"
8. William Bell with Stax Music Academy feat. Snoop Dogg – "I Forgot to Be Your Lover"
9. Charlie Musselwhite with the City Champs – "If I Should Have Bad Luck"
10. William Bell with Stax Music Academy – "Knock On Wood"
11. Bobby Rush* featuring Frayser Boy – "Henpecked"
12. Terrence Howard with Hi Rhythm Section – "Walk Away"
# # #
For more information about TAKE ME TO THE RIVER:
Web: www.TMTRR.com
Twitter: https://twitter.com/tmttrfilm
Facebook: https://www.facebook.com/tmttrfilm
Instagram: http://instagram.com/tmttrfilm
www.concordmusicgroup.com